PEACE, LOVE and MARTY: A MONTROSE ART PARTY
Celebrating 25 Years of Healing Art
Art League Houston is thrilled to announce the 25th anniversary of the Healing Art program and invites the public to celebrate at our annual benefit and community party, Peace, Love, and MARTY: A Montrose Art Party, on Friday, April 24, 6-9 p.m.
Join Art League Houston in honoring artist Patrick Palmer, who established the remarkable Healing Art program in 1990 at the height of the AIDS crisis.
"This program is highly personal for me. When I began it, I just wanted to help my friends, and anyone who was struggling. The AIDS crisis hit close to home, and I felt like something needed to be done. It is so important for all people, to have a creative outlet, and so often people living with HIV or AIDS do not have the ability to go out and gather supplies. Without this program, many participants might never have made art." –Patrick Palmer, artist and founder, Healing Arts program
This year's MARTY is 1960s themed—tie-dye and sky high go-go boots highly encouraged! The event will feature live music by DJ Stephanie Saint Sanchez, delectable bites from Revival Market, beer from Saint Arnold Brewing Company, and special 1960s-inspired libations.
A selection of affordable artwork by Healing Art artists will be for sale in the Main Gallery, as well as an exciting silent auction! A portion of the artwork proceeds will help ensure the continuation of this vital program.
Click here for a map of available FREE event parking!
MARTY SPONSORS
I'M A BELIEVER
Larissa Poindexter; Wells Fargo
I WANNA HOLD YOUR HAND
Lolly Avant, Fidelity National Title; Alison Smith and Dean Burkhardt
SUGAR, SUGAR
Bobby Bass; Kathy and Brad Bracewell; Laynie Bracewell; Sarah Bray; Kate and Blake Hall; The Hill Family; Legacy Community Health Services; Elaine and Carter Overton; Crystal and Don Owens; Adrian Robles; STG Design
LET THE SUNSHINE IN
Joe Aker/Aker Imaging; Ascentium Capital LLC; Rusty Bienvenue and Brian Malarkey; Sarah Bray; Burton Construction; Paula and Dan Daly; Nita and Bill Griffin; Barbara and Marks Hinton; Kristen Johnson and Drew Perrin; Mary and Steve Johnson; Sara and Gabe Jones; Jones Lang LaSalle; Alex Landon and Charlie Ary; Bryn Larsen; Roni McMurtrey; Michael Peranteau and Scott Sawyer; Susan and Richard Quarles; Aaron Reimer; Alaina Schuster; Therapy Hair Studio; Gay and Ron Tigner; Katherine and Jason Tramonte; Jill Whitten and Rob Proctor; Wilsonart Quartz
SPECIAL THANKS
Daniel Anguilu; Arne's Warehouse; Bergner & Johnson; Bobby Bass; Contemporary Arts Museum Houston; Fresh Arts; Kerry Inman; Michelle Ludwig; Dorothy and Malcom Paterson; Revival Market; Cara and Michael Rudelson; Saint Arnold Brewing Company; Tacos a Go Go; The Museum of Fine Arts, Houston; Whole Foods; David Zahn
2015 MARTY Co-Chairs
Bobby Bass
Sarah Bray*
Kristen Johnson*
2015 MARTY Host Committee
Charlie Ary
Dean Burkhardt and Alison Smith
Laynie Bracewell
Susan Bray
Tim Collins
Frida Dillenbeck*
Priyanka Duvvuru
Jodie Eisenhardt
Eleanor Elbert
James Glassman
Gabriel Jones*
Karee Laing*
Alex Landon
Michelle Ludwig*
Marcy de Luna
Erin McClarty*
Crystal Owens*
Susan & Richard Quarles
Robert Raney*
Aaron Reimer*
Alaina Schuster*
Katherine & Jason Tramonte
Salle Werner Vaughn
David Zahn
*Board of Directors
SPONSOR THE 2015 MARTY
One of the most important events that Art League Houston organizes each year is our annual Montrose Art Party, or MARTY, a fundraiser which supports our Healing Art Program. We are writing to ask you to become a sponsor for this unique program that anchors the exploration of creativity in healing. Students who attend these classes work on individual art projects as well as group projects and these classes are led by experienced, imaginative artist teachers. These classes create a network of support in a safe environment during some of the most difficult moments in a person's life.
Your sponsorship dollars provide the teachers and the art supplies for these classes as well as a communal lunch and holiday parties for people who are on fixed incomes and often live in isolation. Please consider the various sponsorship levels and give whatever you are able to support this life enriching program.
TOP SHELF ($2,500)
• One special edition print
• One special edition photograph
• Recognition on all event signage
• Recognition on all digital and print media (if received by April 19th)
• A martini inspired enamel pin
• One unique screen-printed tote bag
• A limited edition T-shirt
SHAKEN, NOT STIRRED ($500)
• Recognition on all event signage
• Recognition on all digital and print media (if received by April 19th)
• A martini inspired enamel pin
• One unique screen-printed tote bag
• A limited edition T-shirt
STRAIGHT UP ($250)
• Recognition on all event signage
• Recognition on all digital and print media (if received by April 19th)
• A martini inspired enamel pin
• One unique screen-printed tote bag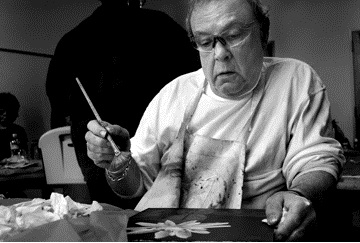 In 1990, Patrick Palmer founded the Healing Art program, a free Healing Art program at Art League Houston for adults living with HIV/AIDS. In 1995, Art League provided additional Healing Art classes to serve the needs of adults living with other severe illnesses including cancer, multiple sclerosis, fibromyalgia, and physical disabilities.

Healing Art is one of only program of its kind for adults in Houston, outside of hospital or clinical settings. Art League Healing Art classes are offered free of charge in a fun and supportive atmosphere. Each Friday, September to May, two Healing Art classes are presented in four-hour sessions. The HIV/AIDS and Cancer Related Illnesses Class is taught by Rebecca Bass, and Emily Sloan instructs the MS and Physical Disabilities Class. Tuition and art supplies are provided at no cost to the students as a majority are living on fixed incomes.

Healing Art students participate in two ALH sponsored events: The MARTY: A Montrose Art Party held each spring and the Healing Art Gala Silent Auction in the fall. There is a sense of camaraderie in the two Healing Art groups, and the on-going opportunities to exhibit and sell artwork gives students a sense of accomplishment.

For more information about Healing Art or to be added to the wait list, please call Art League Houston at 713-523-9530.
What participants are saying about the Healing Art :