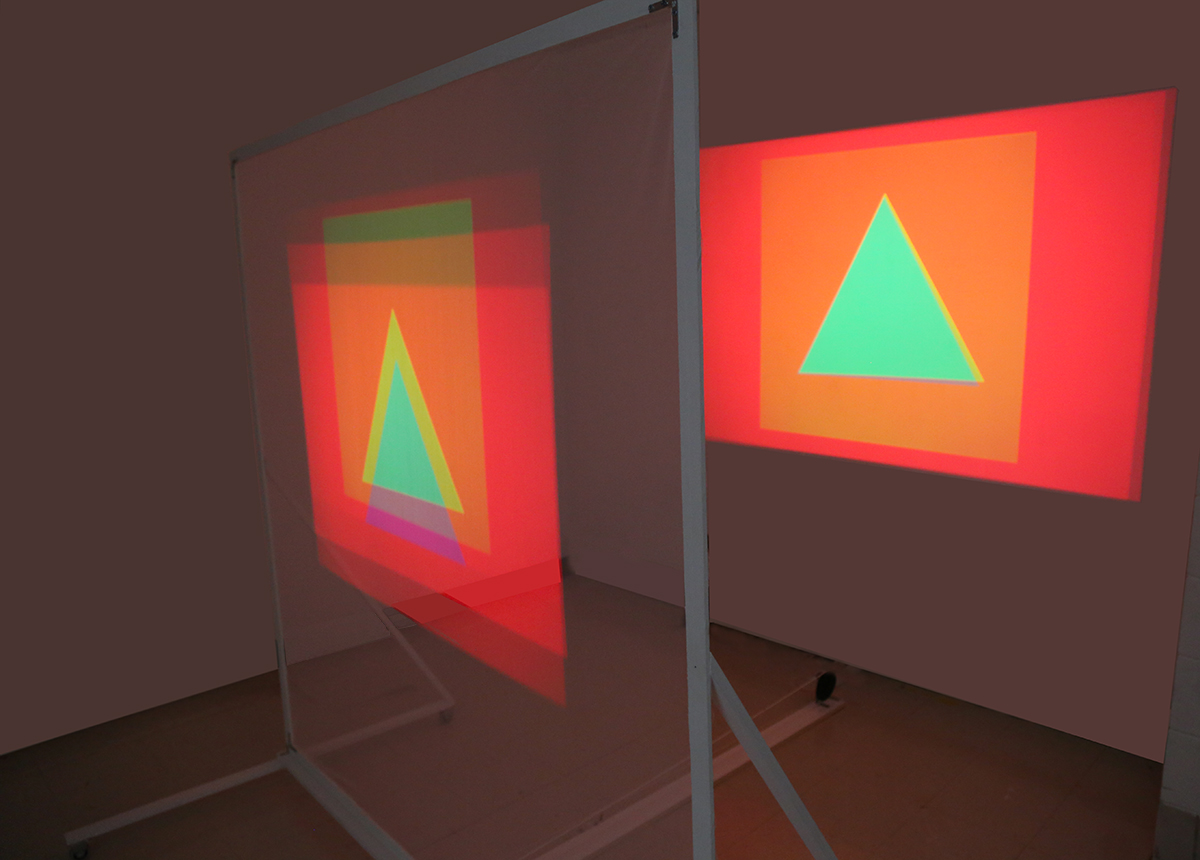 Flicker Futures
Bill Brown + Sabine Gruffat
Exhibition Dates: June 7 – July 20, 2019 Opening Reception: 6 – 9 PM Friday, June 7, 2019 Artist Talks and Live Cinema Performance of "Unsettling Texas": 6:45 PM I Main Gallery
PRESS - Art review: Sabine Gruffat and Bill Brown explore film's future at Art League Houston
PRESS - Bill & Sabine Waltz Across Texas
Art League Houston (ALH) is proud to present Flicker Futures, a 3-part analog-digital installation by the artist team Bill Brown and Sabine Gruffat based in Chapel Hill, North Carolina. This exhibition is comprised of a series of analog-digital operations that recontextualize and build on current discourses surrounding the idea of the film frame, screen, and projector. "Flicker Futures projects old school analog filmmaking onto the digital now. These three installations reflect on our moving image past and rehearse our moving image future," states Brown and Gruffat. "As the technological and material conditions of motion pictures shift in an era of digital image making – as we move from the silver screen to the endless stream – it is high time to revisit our assumptions about the way motion pictures are created and how they are presented."
Quicksilver, a 2017 installation by Gruffat, is a 2-channel video of 35mm film images accompanied by an original spatial soundtrack by sound artist Stephen Vitiello. The images were created by a computer-controlled laser cutter that etched away layers of emulsion, leaving behind abstract patterns. This innovative technique contrasts to traditional approaches in filmmaking, where light exposed emulsion is washed away during the film processing stages. Gruffat states, "In my artistic practice, machines, interfaces, and systems constitute the language by which I code the world. The creation of new ideas means inventing new tools, crossing analog and digital signals, or repurposing old machines to patch into new ones. By actively disrupting both current and outmoded technology, I question standardized ways of understanding the world around us."
Brown's 2017 installation, Moving Pictures, is a 3-channel slide projector installation that looks for movement both within and beyond the moving picture plane. Three automated slide projectors work together to create an animated image that is projected on a large, mobile rolling screen. Thus, the illusion of motion via the animated image is literally made real and translated into physical movement in space. Brown states, "I am increasingly excited by the ways digital technologies can extend the creative possibilities of analog media. The tension between presence and absence that marks the experience of film exhibition – screen time vs. real time, the projected image vs. the physical presence of an audience – has led me to experiment with the technologies of moving image projection, and to consider how the space of exhibition can be the site of a sculptural and spatial art practice." In his Aura Retrieval Machine: aka 16mm Movie Digester (also from 2017), Brown responds to the industrial obsolescence of 16mm film. In this installation, Brown uses donated and deaccessioned 16mm film footage that is projected and then immediately destroyed by a paper shredder. The shredded film collects in an acrylic column, creating a memorial object that commemorates the final moment of exhibition of each frame of film.
ALH is excited to support and be a participating space in Brown and Gruffat's "Waltz Across Texas" coordinated by Dirty Dark Place with screenings and performances at the following venues:
JUNE 2 IN AUSTIN
Blanton Museum of Art, 2–4 PM Expanded Cinema Performance.
The Carpenter Hotel, 7:30–10:30 PM Screening of Film/Video.
JUNE 7 IN HOUSTON
Art League Houston, 6–9 PM Exhibition, Live Cinema Performance & Artist Talks.
JUNE 8 IN SAN ANTONIO
SALA DIAZ, 8–11 PM Screening of Film/Video.
ABOUT THE ARTISTS
Bill Brown is an artist living and working in Chapel Hill, North Carolina. Originally from Lubbock, Texas, Brown currently serves as Professor of Media Production at the University of North Carolina. His artistic practice centers around media art as a series of operations and opportunities that enable us to explore social, historical, and political forces that produce moving images. He is also interested in ways time-based media can be viewed as a physical object, and how we consider the moving image in a physical space. Brown's films and videos have screened at numerous festivals throughout the world, including the Rotterdam Film Festival, Sundance Film Festival, and the Museum of Modern Art in New York. His new series of digitally-controlled analog devices called The Analog Playhouse were recently screened at Alchemy Film & Arts in Hawick, Scotland.
Sabine Gruffat is a French-American media artist who works with experimental video and animation, media-enhanced performance, participatory public art, and immersive installation. She currently lives and works in Chapel Hill, North Carolina, where she is Associate Professor of Art at the University of North Carolina. Gruffat is also a filmmaker with a special interest in the social and political implications of media and technology. Her experimental and essay films explore how technology, globalization, urbanism, and capitalism affect human beings and the environment. Gruffat's body of work includes digital media works for public spaces as well as interactive installations exhibited and screened at the Zolla Lieberman Gallery in Chicago, Art In General, Devotion Gallery, MOMA PS1 Contemporary Art Museum, and Hudson Franklin in New York, and The North Carolina Museum of Art.
So It Will Be
Daniel Heimbinder
Exhibition Dates: June 7 – July 20, 2019 Opening Reception: 6 – 9 PM Friday, June 7, 2019 Artist Talk: 7:15 PM I Front Gallery
PRESS - Mixed Metaphors: Daniel Heimbinder's Clutch City
Art League Houston (ALH) is proud to present So It Will Be, an exhibition of watercolor and ink on paper drawings by Houston based artist Daniel Heimbinder. Recognized for his monumental works on paper, Heimbinder depicts a complex, apocalyptic world with a meticulous and scrutinizing eye. His works are visually arresting and intellectually stimulating in their Bosch-like detail, telling a dystopian story of humanity where time and place are secondary to the narrative that unfolds. There is a surrealist and apocalyptic current running through the work that gives a sense of otherworldly timelessness and displacement – who are these beings, what is their story, where are they going and where have they been?
"We digest, and in many ways navigate our world through stories…narratives that have been ingrained in us since the beginning of time," states Heimbinder. "Stories that are reductive and insufficient in capturing the enormous complexity that is our world, yet they have served as a navigator often revealing more about us than they advise or inform."
So It Will Be is a body of work that exposes the complex and confusing nature of these stories, and how they unsuccessfully attempt to navigate the world around us. Heimbinder's landscapes are purposefully nonreferential and confusing – symbolically referencing the complexities of the human mind. He is interested in how stories form a sense of community, both literally and philosophically, and what happens to a society where shared stories are no longer important. Heimbinder's subjects stem from an amalgamation of different sources, including Biblical, Greek and Roman texts. This exhibition, comprised of three large-scale works on paper, chronicles stories often used as tools for navigating and understanding the scientific principles and moral codes of our world. In So It Was (2012), Heimbinder highlights contradictions found in his sources, stemming from Biblical, Greek and Roman texts; So It Goes (2015) looks at these contradictions through a more contemporary lens; and So It Will Be (2019) shows the result of these contradictions in our contemporary world, where civilization breaks down and mass paranoia reigns.
ABOUT THE ARTIST
Daniel Heimbinder is an artist living and working in Houston, Texas, where he is recognized for his work as a draftsman and painter. Although he was born in New York City, Heimbinder grew up in Houston and graduated from the Kinder High School for the Performing and Visual Arts. Following graduation, the artist attended the School of the Art Institute of Chicago and Skidmore College. Heimbinder's work, which notably features intricate, intense drawings and paintings of the mind, has been featured in solo and group exhibitions in Houston, as well as national and international venues. Numerous publications have covered his work, including the New York Times, Harper's, NY Arts, WIRED Magazine, Houston Chronicle, and Time Out New York.
Ubuntu: I am because we are
Tijay Mohammed
Exhibition Dates: June 7 – July 20, 2019 Opening Reception: 6 – 9 PM Friday, June 7, 2019 Artist Talk: 6:30 PM I Hallway Gallery
Art League Houston (ALH) is proud to present Ubuntu: I am because we are, an installation by Bronx, New York based artist Ahmed Tijay Mohammed (Tijay Mohammed). Ubuntu (uu-boon-tuu) explores the vital and significant role of women, especially the lives of immigrant women, whose daily labor and work, necessary to their families and livelihood, often goes unnoticed. In this sense, Ubuntu is a group portrait, celebrating the familial and societal impact of their lives and work.
The installation consists of Ankara fabric scraps (African wax print) collected by the artist from seamstresses across Africa, Trinidad and Tobago, and New York. The collected scraps symbolically represent the shops women traditionally visit to buy special occasion clothing, such as dresses for weddings and funerals. For his installation, Tijay trims the Ankara fabric scraps into rectangular shapes and pastes them on yards of stiff fabric with a white glue. The swaths of thick fabric create a sort of wall that can suspend in and cover an area, transforming space and surrounding the viewer. The sense of total immersion created by the fabric, mirroring traditional brick arrangements, highlights the beauty of Ankara fabrics and symbolically emphasizes African heritage and shared immigration histories. The dynamic installation also highlights the traditional arts found in Sirigu, Ghana – a village known for murals created primarily by women and a lively arts community.
Another component of the installation are portraits of women created using an airbrush application technique with black and white acrylic paint on stiff fabric. In 2013, the artist solicited a call for portraits of women on social media – this collection of images comes from this call and depicts real women from a diverse range of experiences and lives. The artist states that his use of online imagery as source material for these portraits "breaks the shackles" of traditional portraiture that typically uses a live model. He rearranges the ears, nose, and mouth in the portraits so that a new image is created. There is a universal undertone to the installation through the collected fabrics and portraits that highlight the commonalities of all people and our shared experiences.
ABOUT THE ARTIST
Ahmed Tijay Mohammed (Tijay Mohammed) was born in Kintampo, Ghana and currently lives in the Bronx, NY. Integral to his artistic philosophy and practice is the necessity of community, and Tijay devotes much of his energies towards creating and volunteering in community-based programs. He has exhibited his work internationally, including features at the Longwood Art Gallery (NY), Green Drake Art Gallery (PA), Lincoln Medical Center (NY), The National Museum of Ghana (Ghana), and Ravel D'Art (Côte d'Ivoire). Tijay has also organized workshops and community based projects with numerous organizations including the Studio Museum Harlem (NY), Wallach Art Gallery (NY), University of Ghana Performance Art Center (Ghana), the Brooklyn Museum (NY), Sugar Hill Children's Museum of Art & Storytelling (NY), and Pinto Road Community Centre (Arima, Trinidad and Tobago). In addition, he has received numerous accolades and grants and is a recipient of the Arts Fund and Artist for Community grant from the Bronx Council on the Arts, the Create Change initiative through The Laundromat Project (NY), and the Spanish Embassy Ghana Painters Award. He participated in the Global Crit Clinic, Asiko Artist Residency (Ghana), Harmattan Workshop (Nigeria), and Community Workers Training (NY). Tijay is currently completing a residency at the Children's Museum of Manhattan (NY).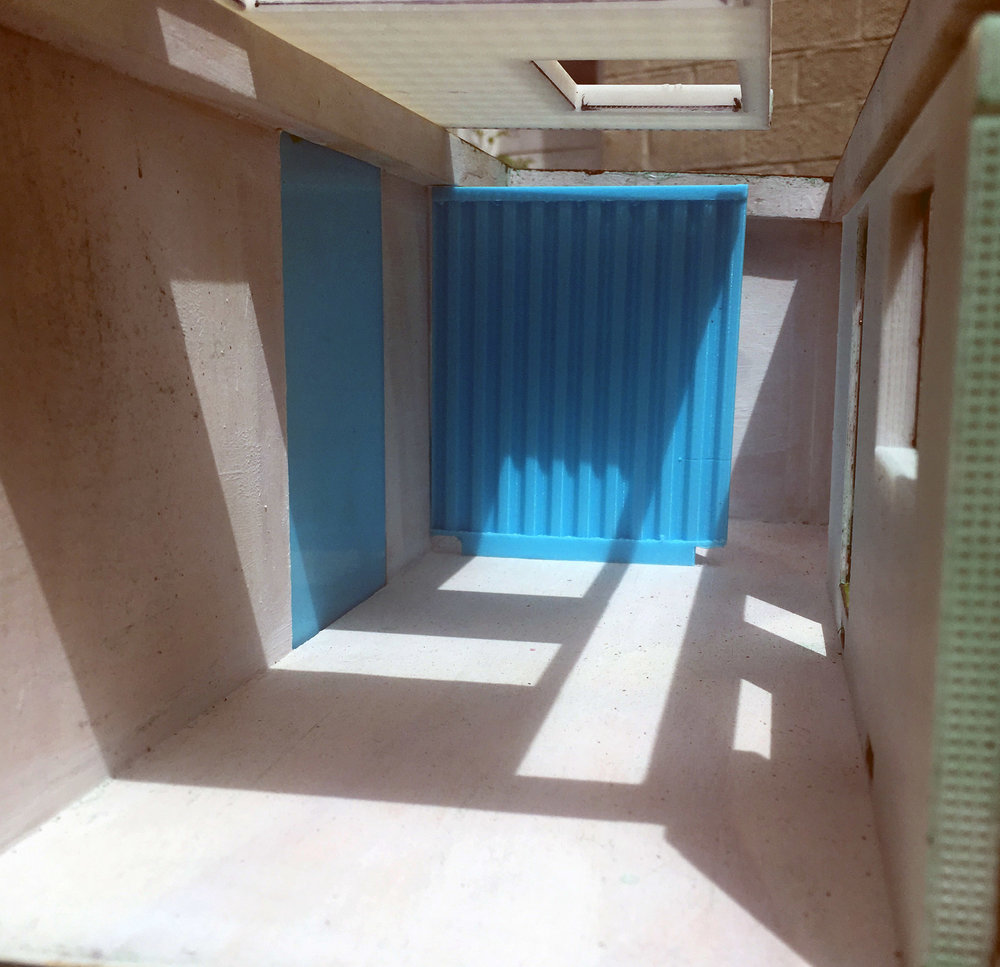 Sustainable Lifeguard Chair Chicken Coop (SLICK)
Kasey Short
Exhibition Dates: June 7 – July 20, 2019 Opening Reception: 6 – 9 PM Friday, June 7, 2019 Artist Talk: 6:15 PM I Parking Lot
Art League Houston (ALH) is proud to present Sustainable Lifeguard Chair Chicken Coop (SLICK), a new, interactive work by Houston based artist Kasey Short, funded in part by the 2019 Support for Artists and Creative Individuals Grant from the City of Houston through Houston Arts Alliance. This project and site-specific installation underscore the artist's interest in creative sustainability, society and consumerism. The passing of time and the viewer's perception is integral to the work; the installation is viewable at all hours of the day, and guests are invited to interact with the piece. Originally interested in building a mobile, interactive, public work of art, SLICK is designed to stimulate a shelter that is a self-sufficient device acting as a place of home, occupation and source of food. The desire and importance of living up to societal standards is ingrained in us as humans. Kasey's philosophical thought behind SLICK questions our innate desires to conform to society and whether a system that values creative modes of living is a possible resource and solution to our mass-consumeristic lifestyles.
"I am particularly intrigued by objects that have social and mobile qualities. SLICK is designed to be inhabited and reflects on the interaction between people and our environment," states Short. "This project was originally conceived as something that could be accessible as a kit to consumers, but I am more interested in the translation of instructions and that kind of potential through experience rather than explicit guides." SLICK is constructed using contemporary and unconventional approaches to sculptural practice, including metal, wood, new media and digital fabrication, in the artist's hope to create a futuristic pod that serves as both a protective and producing resource for life and the idea of art as a tool for living.
In our overpopulated societies, residency and issues regarding population growth and resource scarcity are of growing concern. In this sense, SLICK deals with social mobility and survivalist modes, while also identifying ways of human adaptation and means for living in varied ecological realms. Kasey's installation emphasizes how we, as humans, cultivate and effectively utilize minimal space. As the population rises, our modes of living must also adjust to accommodate societal changes, creating a sense of place in both interior and exterior worlds.
ABOUT THE ARTIST
Kasey Short is an interdisciplinary artist and educator living, creating and working in Houston, Texas. His creative practice and production straddles the categories of both installation art and sculpture – often blurring the lines between the two fields with his range of media and interactive, temporal explorations. Kasey received his BFA from Texas State University and his MFA from the University of Pennsylvania in Philadelphia. His current artistic explorations address societal concerns and community needs through creative problem solving. He is a 2019 recipient of the Support for Artists and Creative Individuals Grant from the City of Houston through Houston Arts Alliance. Kasey has exhibited his work nationally and internationally, most recently participating in the 2018 Art Rotterdam Fair and the 2013 Texas Biennial, as well as numerous solo exhibitions and projects slated for 2019.
Here, Ahora: Houston, Latinx, Queer Artists Under 30
Curated by Reyes Ramirez Participating Artists: Leticia Contreras, Jessica González, Romeo Harrell, Ángel Lartigue, Trevon Latin, Moe Penders, Isaac Reyes
Opening Reception: 6-9 PM Friday, March 22, 2019
Exhibition Dates: March 22 - May 4, 2019
Artist & Curator Remarks: 6:45 PM I Main Gallery
La Tierra Tuya Es El Tema De Mis Canciones / Performances + Artist Discussion featuring Jessica González, Erick Zambrano, Veronica Gaona, Antonia Claros, Farrah Fang and Ángel Lartigue: 7 PM, Tuesday, April 30, 2019 (click here for more information)

Reading organized by Reyes Ramirez, along with Lupe Mendez and Jasminne Mendez of Tintero Projects, HERE, AHORA: Houston Conversations, Queer ART + LIT: 7:30 PM, Thursday, May 2, 2019 (click here for more information)
PRESS - Houston, Latinx, Queer Artists Under 30: Questions for Reyes Ramirez and Moe Penders
PRESS - New Houston Exhibit Showcases the Work of Queer Latinx Artists Under 30
Art League Houston (ALH) is proud to present Here, Ahora: Houston, Latinx, Queer Artists Under 30 curated by Reyes Ramirez and featuring artists Leticia Contreras, Jessica González, Romeo Harrell, Ángel Lartigue, Trevon Latin, Moe Penders, and Isaac Reyes. Houston boasts the fifth highest concentration of Latinxs in major American cities, proving itself as fertile grounds for diverse Latinx art. This exhibition, in conjunction with Latino Art Now! (LAN) highlights a particular aspect of the Latinx identity: young, LGBTQ artists of color working within Houston who show amazing potential to shape and innovate Latinx art and discourse, for Houston and beyond, in the years to come.
Latinx's are being dehumanized in our political climate. Latinx artistic discourse needs to be highlighted because our work acts as a counter spell to the political discourse that labels them as murderers, rapists, and drug dealers; we are poets, writers, and artists. More than that, Latinx identity is fluid and far-reaching. Latinxs can be men, women, gender-fluid, black, indigenous, LGBTQ, Salvadoran, Guatemalan, Honduran, Dominican, Peruvian, etc., many at the same time. However, American artistic discourse has barely scratched the surface of Latinx art. This exhibition illuminates the many intersections that fall within the Latinx identity, culturally and aesthetically.
Here, Ahora features some of Houston's most talented emerging artists who represent different aspects of Latinidad and work in different media and practices. Featured artists include the following: Ángel Lartigue, a Mexican-American and queer artist, who works in sculpture, photography, painting, performance, etc.; Trevon Latin, an African-American and homosexual artist, who works in craft, fashion, and painting; Moe Penders, a Salvadoran and queer artist, working in photography; Isaac Reyes, a Mexican and queer artist, working in sculpture, installation art, performance, and drag; Romeo Harrell, a Latinx and bisexual artist, who works in photography, film, and digital media; Jessica González, a Honduran/Salvadoran American artist, working in sculpture and mixed media; and Leticia Contreras, an Afro-Chicana and queer artist, working in craft, performance, etc.; etc. This exhibition highlights LGBTQ artists working in photography, multimedia, sculpture, performance, fashion, etc. who identify as Latinx, Black, and much more. Here, Ahora seeks to progress Latinx identity, art, and discourse.
A reading in conjunction with Here, Ahora, featuring LGTBQ, Latinx writers from Houston and beyond in response to the visual art will be presented by Reyes Ramirez, along with Lupe Mendez and Jasminne Mendez of Tintero Projects, at 7:30 p.m. on Thursday, May 2, 2019, at Art League Houston.
ABOUT THE ARTISTS
Leticia Contreras is a queer interdisciplinary artist and cultural organizer born and raised in Houston. Her work explores themes of embodied memory, radical joy, and our relationship to each other and our environment. She uses materials that draw from the natural world for inspiration and creation. Leticia engages a variety of media, including photography, installation, and performance to unveil the stories of a place. She received a BA from Hampshire College, Amherst, MA, 2012, and is currently pursuing a MFA in Interdisciplinary Practices and Emerging Forms at The University of Houston, Houston, TX. In 2018, Contreras was a participating artist in the Desert Unit for Speculative Territories (DUST) program - Marfa, TX, an international research collaboration with The University of Houston and School Fine Arts De Nantes Saint-Nazaire, France. Leticia is an active member of Alternate Roots (since 2012), an organization based in the Southern USA whose mission is to support the creation and presentation of original art, in all its forms, which is rooted in a particular community of place, tradition or spirit. Shout out to her Mujers Malas colectivo! Group shows include Bloodlines, University of Houston, TX (2018), Between the Sun and Me, Marfa, TX (2018), El Chow: Frutos en Vaina, El Rincón Social, Houston, TX (2018), Lo Que Me Dijeron Was… performance with Mujeres Malas, Houston, TX (2017), Black Women Artist for Black Lives Matter, Project Row Houses, Houston, TX (2016), Creative Women Unite: Labels, blueOrange Gallery, Houston, TX (2016).
Jessica González is a multidisciplinary artist that works to dissect experience for comprehension and study. Drawing from memory, González curates and re-contextualizes documents, photographs, and nostalgic ephemera, while incorporating contemporary material to give form to her lived experiences. González is a member of Mujeres Malas, an artist collective that challenges ideas of Latinidad and different forms of oppression without censorship. She has featured her work in numerous galleries including Lawndale Art Center in Houston, Texas, and the Mulvane Art Museum in Topeka, Kansas. She is currently working on a BFA in Photography and Digital Media, BA in World Cultures and Literatures: Global Modernity Studies, and Spanish Minor from the University of Houston, graduating spring 2019.
Romeo Harrell was born, raised, and currently lives in Houston, TX. He is interested in the lives of young adults throughout Houston because he sees his generation as misplaced. He believes they are given this idea that they are the end, the reason that nothing good is going to happen. Contrary to this, he thinks the youth are the beginning and by sharing his work with you, he feels like he's doing good in making sure to get rid of that image. Harrell tries to reveal urban life's true underlying beauty through his photography. Harrell states: "What I'm trying to capture is the true aesthetic of Houston; the grittiness of it all, but the most important thing to remember is that it comes with living here in a truly inspirational place. My use of tape, box cut outs and poster concepts are a part of that - some people might see it as trash on the street of something it once was, but it's art in its own way. Its adversity in a world that isn't fair, but that mindset will not be maintained."
Ángel Lartigue is an artist born and raised in Houston, Texas. Lartigue's primary motivation is to investigate and redefine the relationship between the body and land through the use of organic matter as raw material. This concentration has led the artist to pursue academic study and training in forensic anthropology and human remains recovery. During this training, Lartigue produced artworks incorporating fungi, insects, and odors captured during fieldwork. Lartigue was recently invited to take part in the 2019 artistic-laboratory residency, SymbioticA (University of Western Australia, Perth, AU) to forward his research and artistic exploration.
Trevon Latin a.k.a. Shaturqua Relentless (b. 1987, Houston, Texas) is a Houston Multimedia artist and a Painting BFA graduate from the University of Houston School of Art, where his paintings were featured in annual student shows (2014 and 2015). He was also part of a group show at Inman Gallery, "Home-life" curated by Dana Frankfort and Gael Stack (summer of 2016). He is currently a candidate of the Yale School of Art: Painting program for 2019-2020.
Moe Penders is a Salvadoran artist, curator and educator whose practice is mainly framed in traditional photography. Their work explores the social construction of home, intersectionality of identity and gender expression. Moe is a part of El Rincón Social art studios (since 2015). Their most recent curatorial project was El Chow: Fruto en vaina, a show exclusively created with the intent of upholding latinx women and queer artists. They have worked at FotoFest International as the Volunteer and Special Projects Coordinator, as well as a teaching Artists for FotoFest's education program, Literacy Through Photography. They received their BFA in Photography and Digital Media from the University of Houston and currently reside in Houston, Texas.
Isaac Reyes is a Mexican artist. He attended the University of Houston where he received his BFA in Sculpture. Reyes's works are predominantly in the medium of sculpture and installation art. He has exhibited his work locally in spaces, such as Summer Studio Program at Project Row Houses, in Houston Community College art galleries, as well as SITE Houston. Reyes's work was also at Breaking Boundaries IV as part of the international photography festival of Pingyao, China. He is the recipient of the Archie D. and Bertha H. Walker Scholarship at the Fine Arts Work Center in Provincetown, Massachusetts.
ABOUT THE CURATOR
Reyes Ramirez is a cisgendered, straight, Latinx writer and Houstonian. Reyes won the 2017 Blue Mesa Review Nonfiction Contest, 2014 riverSedge Poetry Prize, and has poems, stories, essays, and reviews (and/or forthcoming) in: Cosmonauts Avenue, Queen Mob's Teahouse, Deep Red Press, The Latinx Archive, december magazine, Glass: A Journal of Poetry, Texas Review, TRACK//FOUR, FIVE:2:ONE Magazine, Houston Noir, Gulf Coast Journal, Origins Journal, The Acentos Review, Cimarron Review, and elsewhere. He's was a finalist for several contests, including Cosmonauts Avenue's 2018 fiction prize, december magazine's 2018 poetry prize, Iron Horse Literary Review's and Gold Line Press's 2018 poetry chapbook competitions. You can read more of his work at reyesvramirez.com.
Miriam Medrez: What Your Eyes Can't See · LO QUE TUS OJOS NO ALCANZAN A VER
Curated by Mariana Valdes
Opening Reception: 6-9 PM Friday, March 22, 2019
Exhibition Dates: March 22 - May 4, 2019
Artist & Curator Remarks: 7:15 PM I Front Gallery
Art League Houston (ALH) is proud to present in conjunction with Latino Arts Now! (LAN) What Your Eyes Can't See · LO QUE TUS OJOS NO ALCANZAN A VER by Mexico based artist Miriam Medrez, curated by Mariana Valdes. This exhibition features seven life-size, figurative works that are corporal in their physicality and sculptural installation, focusing on Medrez's explorations in feminism and the female body. Her use of fabric and embroidery, often relegated as a female and "artisanal" practice, asks viewers to reconsider techniques and the modes of contemporary art today, highlighting the historical significance of embroidery and female identity. Visually, Medrez's embroidered figures draw comparisons to dolls - objects key to the formation, according to the artist, of a woman and her image. Concerned less with portraiture, Medrez views her sculptures as a collective, familial group of women.
ABOUT THE ARTIST
Miriam Medrez was born in Mexico City in 1958. Medrez studied Plastic Arts at the UNAM and at Montreal's Concordia University in Canada. She also studied at Jerusalem's Bezalel University in Israel. In 1985, Medrez moved to Monterrey, located in the State of Nuevo León, where she developed her career in sculpture. She continues to search and explore different ideas and techniques in her art. She is the recipient of numerous awards, including a First Place in Sculpting at the IV Bienal Monterrey Femsa (1998), as well as institutional awards at the Sistema Nacional de Creadores FONCSA/CONACULTA (2006 – 2009, 2010 – 2013 and 2015 - 2018). Medrez has exhibited her work in numerous museums, including solo retrospectives at the MARCO Museum of Monterrey (from 1995 through 2008), as well as other public and private institutions in Mexico and abroad.
ABOUT THE CURATOR
Mariana Valdes is an art psychologist, curator and collector of modern and contemporary Mexican art. Since 1999, she has worked on projects promoting the understanding and cultural value of Mexican art. Significant projects in the USA and Mexico include exhibitions at Williams Tower, Houston (1999-2000), co-founder of the Navarro-Valdes Gallery, Mexico City and Valle de Bravo (in operation 2010-2012), and co-founder of Forma110, Houston (2017). Valdes's curatorial focus centers around reimagining the past through daring works of contemporary art. Beginning in 2014, her activities expanded towards an individual's sensory experience, with a mission to support artistic and transformative consciousness for participants. Her promotional framework is an expanded model that covers commercial and non-profit projects, facilitating the creation and presentation of artwork, engaging artists, academics, collectors and the public. Valdes creates and develops projects that incite awareness of contemporary social challenges, acting as a catalyst that encourages a solution. Centered around the importance of what is human, Valdes considers the vital role artists and their artwork play as a factor of positive change and well-being.
Liyen Chong: Houston Paintings
Opening Reception: 6-9 PM Friday, March 22, 2019
Exhibition Dates: March 22 - May 4, 2019
Artist Remarks: 6:30 PM I Hallway Gallery
Art League Houston (ALH) is proud to present Houston Paintings by artist Liyen Chong. Chong's art practice spans a diverse range of media and practices, including embroidery with hair, photography, ceramics, graphic design and collaborative community works. In 2016, after moving to Houston from Auckland, New Zealand, repeated visits to local museum collections sparked her return to painting. Using photographic images from the book Houston's Forgotten History, Chong's paintings re-interpret the content of these historical images and tease out new relationships to the present through her use of color. Chong goes on to explore photographic images from other sources, including videos from YouTube and children's encyclopedias from the 1950s. Intrigued by the unique details of life in the images, she is simultaneously repelled by the books' patronizing captions, which used the images to legitimize a dominant view of other ethnicities, women, children, and animals. Chong's paintings employ the use of saturated color and meticulous techniques in a bid to tease out previously unnoticed details, to highlight the construction of the source images, or to emphasize the mythological or symbolic qualities that exist in the mundane. She uses color in a non-natural way to jolt the viewer out of taking what they see for granted.
These paintings follow a line of inquiry that allows for the instability of history, and that considers arrival in a new place in dialog with histories of colonization. In her painting of Margaret Mead and Fa'amotu, Chong is drawn to their sisterly relationship and the warmth of the original encounter, even as she questions the impulse underpinning Mead's research. Her painting of the John Henry Kirby natatorium, built in 1901, revisits a photograph taken in the space before one of the most elaborate weddings in Houston history. The space is decorated but empty, an elegiac reminder of a family's personal history and of the absent archives of other communities. There are complex forgotten interactions meshed into our collection of knowledge and the ways in which we connect to other histories and places. "Much like paintings that focus on the archive, such as the works of Luc Tuymans, my work functions as a re-evaluation of images, bringing audiences face to face with images from different contexts presented in a different scale and in a physical body, that of painting. I'm drawn to the content and composition of the images I choose to paint and as I'm making each painting, I think both about the internal logic of the image and the historical instability of its meaning," states Chong.
ABOUT THE ARTIST
Liyen Chong received her MFA from the University of Canterbury in New Zealand and regularly exhibits in her adopted home country of New Zealand and abroad. Her works are included in prominent public and private collections in New Zealand and Australia, such as the National Gallery of Australia in Canberra, University of Canterbury Art Collection and the Chartwell Collection in New Zealand. She is the recipient of multiple artist residencies including the McCahon House Artists' Residency in New Zealand (2011), artist-in-residence programs at the National Museum of Modern and Contemporary Art Korea in Seoul, South Korea (2012), and Cemeti Art House in Yogyakarta, Indonesia (2015). In 2014, Chong was awarded a solo show surveying her work, at Papakura Art Gallery. She was born in Malaysia and moved to New Zealand as a youth, where she lived for the next two decades. Chong moved to Houston in 2016 after an extended period of travel.
Click here to visit Liyen Chong's exhibition website.
Molly Koehn: sans delineation
Opening Reception: 6-9 PM Friday, March 22, 2019
Exhibition Dates: March 22 - May 4, 2019
Artist Remarks: 6:15 PM I Sculpture Garden
Art League Houston (ALH) is proud to present sans delineation, a site specific installation by artist Molly Koehn. Originally from southwest Kansas, Koehn relocated to Houston in 2017. Her work, which incorporates drawing, weaving, and sculptural installation, is inspired by idealized understandings of nature. The vast expansion of Houston's urban development is prime source material, offering infinite inspiration through the city's landscaping and material construction.
Koehn's installation, sans delineation, is the result of her observations since moving to Houston. Chaos and structure, symbolic of Houston's unzoned infrastructure, are visualized through intersecting planes; our desire for idealized beauty is embodied in the hand-woven grid formed by these planes, created with fine threads of stainless steel, linen and silk. "Landscaping practices point to our idealization of nature, curating land to be what we find attractive," states the artist. Koehn's recent work is her response to these practices in Houston, as well as "...her own impulse to plant a palm tree, exploring why we choose to seemingly improve the aesthetic appearance of our surroundings by often eradicating the "natural" in preference of the artificial." Koehn's observation of her surroundings, including Houston's gridded streets, buildings, wood, steel, and concrete, feed her creative process. "These works offer parallels between natural and synthetic, stable and decrepit, strength and fragility and embrace the temporal qualities of our fabricated environments," states Koehn. The temporary nature of her installations stand in contrast to the stable ideals of architecture and exemplify the dualities in the constructed world around us.
ABOUT THE ARTIST
Molly Koehn moved to Houston, Texas in 2017. Originally from southwest Kansas, Koehn is an environmental artist and received an MFA with an emphasis in fibers from Arizona State University (2017). Current artistic explorations continue to pursue the expressive qualities of her background and BFA in drawing from Fort Hays State University (2013). Koehn was awarded a residency at the Houston Center for Contemporary Craft (2017-18) and received a full tuition scholarship to Tennessee's Arrowmont School of Arts and Craft (2016).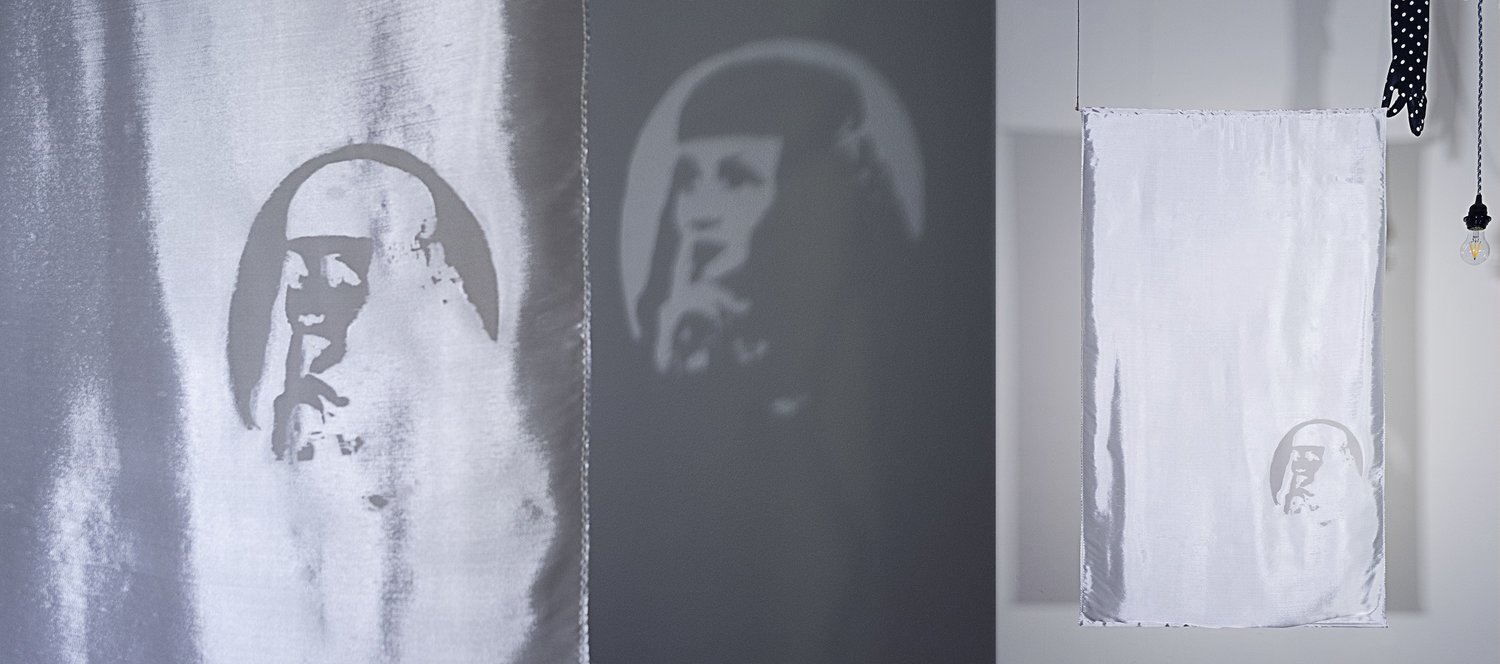 Jade Yumang: In the Shadows
Exhibition Dates: January 26 – March 9, 2019
Main Gallery
PRESS - Spectrum South: Figures In The Shadows: Finding Queer Representation In Film Noir With Artist Jade Yumang
Art League Houston (ALH) presents In the Shadows, an installation featuring sculpture, textile and video by Chicago-based artist Jade Yumang. The exhibition is part of an ongoing body of work by the artist exploring the queer aesthetics of Film Noir. The work in this exhibition considers how film noir is constructed stylistically and narratively to disorient the audience to generate a level of uncertainty and deception, not just in its story arc, but more so on how queer characters implicitly and explicitly surface.
"My work primarily focuses on the concept of queer form," says the artist. "I use a variety of techniques to convey notions of phenomenology, affect, and "queer" as a process, as a verb rather than a quality. My current work addresses the term "queer" and its aesthetics through three-dimensional, site-specific installation, and performative work as a way to see how the body resists or submits through materiality and technique vis-à-vis obsessive acts, strict parameters, repetition, and forms of discipline. This direction is guided through the tracing and summoning of historical amnesia, by means of myths, scandal trials, obscenity laws, and filmic tropes. I filter these procedures through meticulous techniques and create abstract shapes that initially come from a corporeal form. My compulsiveness to place things in order in reality breaks into pieces that expose the pressure placed on non-conforming bodies and their values."
Using the materiality of costuming, lighting, and queer affect, the installation in ALH's main gallery features a series of effigies of queer characters that emerged and navigated the strict movie moral codes in Hollywood in the 1940s and 1950s. Additionally, the installation includes a looped video projection featuring clips from eight films that have been configured to only depict the scenes when queer characters are represented. Furthermore, the video is projected onto, and through, a large-scale abstract sculptural form in the center of the gallery, producing a distorted effect across the gallery walls, echoing the uncertainty that is built into noir's central narrative. Most of characters' sexuality in the films are formulated through crime scenarios where gay men are portrayed as deviant dandies and lesbians as menacing sadists. These depictions, although contemporarily outdated, were important at that time, since these queer characters seep through the shadow and glare at the instability of heterosexuality as they act as a harbinger for the LGBTQ rights movement in the 1960s.
About the Artist
Jade Yumang was named after his mother's beauty salon and from an earlier age has been obsessed with beautiful, yet slightly off things. His work primarily focuses on the concept of queer form through sculptural abstraction, installation, and performance. He received his MFA at Parsons School of Design with Departmental Honors in 2012 and his BFA Honors in University of British Columbia as the top graduate in 2008. He was born in Quezon City, Philippines, grew up in Dubai, United Arab Emirates, immigrated to unceded Coast Salish territories in Vancouver, BC, Canada, and lives in Chicago, IL, USA. He is part of a New York-based collaborative duo, Tatlo, with Sara Jimenez and is an Assistant Professor in the department of Fiber and Material Studies at School of the Art Institute of Chicago.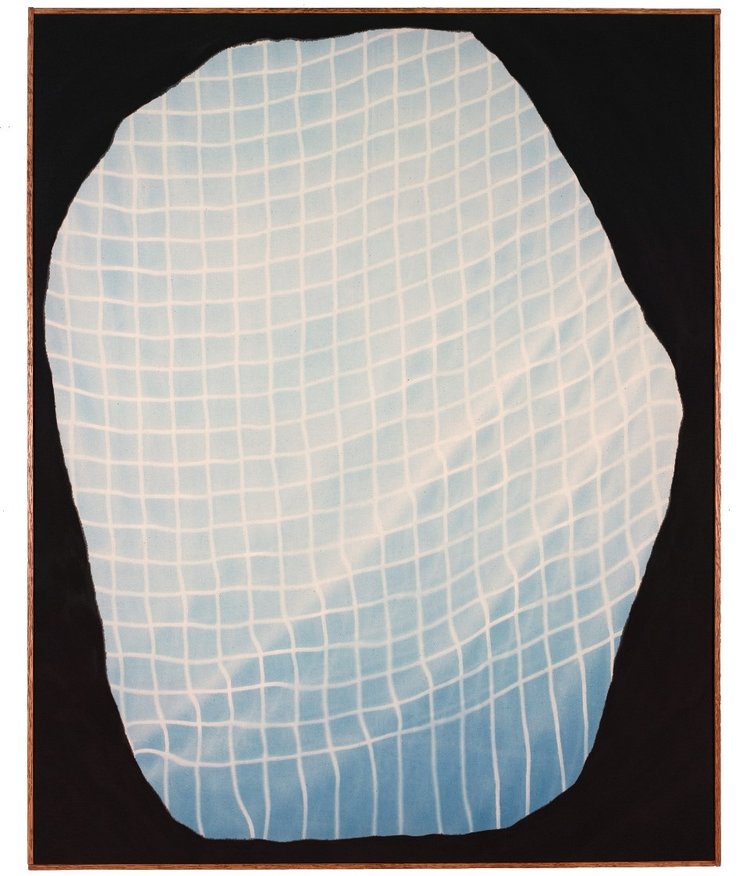 Karen Lee Williams: a heel is half a rock, a slab is a slice
Exhibition Dates: January 26 – March 9, 2019
Front Gallery
Art League Houston (ALH) presents a heel is half a rock, a slab is a slice, an installation of new sculpture and photograms by LA-based artist Karen Lee Williams.
Because they represent places far beyond our direct experience, images and artifacts of space exploration always have a surreal quality. The gap between the advances of astronomy and the public's understanding creates a void where doubt and imagination flourish. Lee Williams makes tactile proxies for those ideas and observations just beyond grasp. The work is inspired by moments when mainstream science and scholarship are infiltrated by superstition and mysticism.
Norman Mailer, while covering the first moon landing, bemoaned the loss of the moon's mythic aura in the cold analytical hands of scientists and engineers. In search of some profound meaning in putting a man on the moon, Mailer projected all of his longing on a small piece of moon rock. Through an installation of mixed media sculptures that evoke charts, graphs and rock samples, Lee Williams plays to our collective desire for both truth and lore. By contradicting and disrupting supposedly objective methods of measurement, she opens up the potential for other epistemological approaches. The works on view rely on the senses to excavate the potential metaphorical power of objects while acknowledging the absurdity in always trying to reconcile reason with gut feeling. The exhibition draws on the physical and historical connection Houston has with the moon and references some of the city's artworks that consider the monolith as a symbol of mystery.
About the Artist
Karen Lee Williams (b 1980 Los Angeles) makes sculptures and photographs that prolong the process of translating sensory information into understanding by engaging with and undermining certain assumptions about perception, natural phenomenon and materiality. Lee Williams has had recent solo exhibitions at Equity Gallery, NY and Monte Vista Projects, Los Angeles. Her work has been presented in galleries and artist-run spaces including Albada-Jelgersma Gallery, Amsterdam; September, Hudson; Scott Charmin, Houston; and Visitor Welcome Center, Los Angeles. She received an M.F.A. from SUNY Purchase and a B.A. from UCLA. Lee Williams lives and works in Los Angeles.
Las Girls Collective: Fruit Series
Daniela Antelo & Brenda Cruz-Wolf
Exhibition Dates: January 26 – March 9, 2019
Hallway Gallery
Art League Houston (ALH) presents Fruit Series, a site specific installation by Las Girls Collective, a Houston-based collaboration between artists Daniela Antelo and Brenda Cruz-Wolf. The exhibition continues the artist's interest in the relationship between the urban landscape and the female body, and features a series of visually-rich videos using various colorful fruits to playfully interact with the body against a series of backgrounds that seeks to transform the visitor's perception and experience of the ALH hallway gallery. "We are very interested in the choreographic relationship between the objects, the body, and the physical landscape," say the artists. "These videos configure sensory universes that are minimal and intimate yet produce a complex aesthetic that is both humorous and surreal."
About the Artists
Artists Brenda Cruz-Wolf and Daniela Antelo have collaborated together for the last few years on various site-specific performances, creating experimental dance films. Their collaborative work merges the strength of their individual practices together by combining experimental movement/performance with video production. Together, they succeed in using the raw elements of each site to produce immersive installations that collapse the boundaries between abstract movement, the viewer and the physical space.