Bead by Bead, the Fabric of the Houston Community Came Together in Support of Public Art - Join Us for the Long Awaited Launch of 360 Degrees Vanishing by Selven O'Keef Jarmon
June 17, 2019 - Art League Houston (ALH) is excited to invite the public to the unveiling of 360 Degrees Vanishing (360DVP), a community driven public artwork by Selven O'Keef Jarmon on June 29, 2019 from 6:00 - 8:30 PM at Art League Houston.
The 360DVP was created as a means to re-imagine the possibilities of applying a traditional art form, such as beading, in a different cultural and modern context aimed at inspiring broader discourse around the societal significance that exist in both present-day as well as historic settings. The project is informed by the seven years the artist, Selven O'Keef Jarmon, spent living and working in South Africa, where the traditional craft of beading – once a significant component of South African folk life – was vanishing from the cultural landscape.
As an international public art and cultural exchange between Houston and South Africa, 360DVP has already succeeded in bringing together several South African Eastern Cape communities and connecting them with hundreds of Houstonians from various communities. Between the Summer 2014 and Winter 2015, 16 highly skilled beaders from sewing coops throughout the Eastern Cape traveled in three groups and lived at the Art League Houston residency house. In that timeframe, over 1,000 volunteers from across Houston, ages 5 – 93, met and worked in tandem with the South African beaders at workshops held at venues throughout Houston to create tapestries.
Jennie Ash, Executive Director of Art League Houston said, "The 360DVP explores the possibilities of how a traditional medium can be re-envisioned and re-activated by placing it within a new context and landscape. We hope that this public artwork will bring awareness to the many cultural traditions that are often taken for granted and are slowly disappearing from our everyday lives. This project embodies an international cultural exchange with South Africa and we were very pleased to work with the South African Government, the Craft and Cultural Hub of the Eastern Cape, and the South African Cultural Minister's Office to bring it to fruition."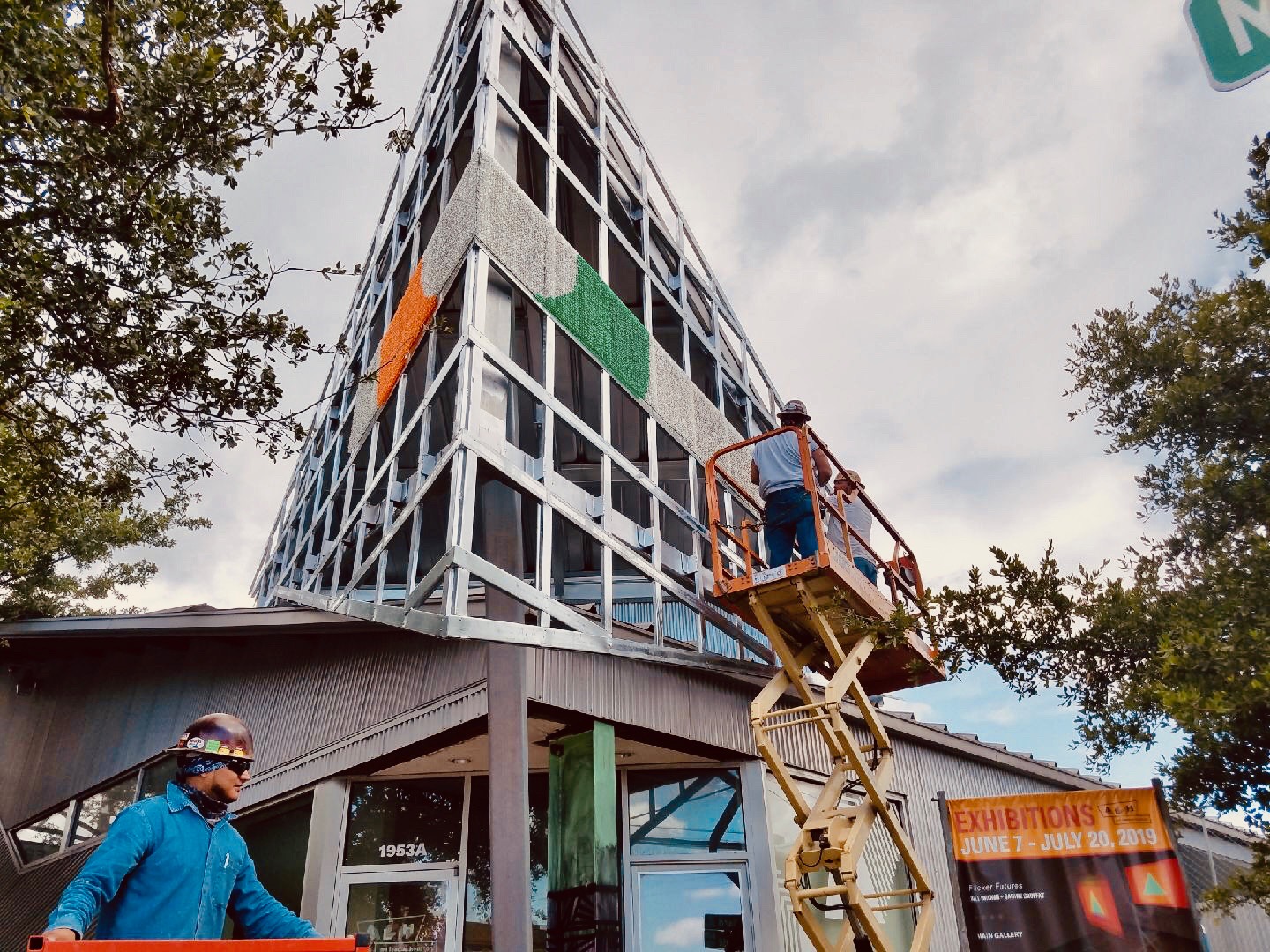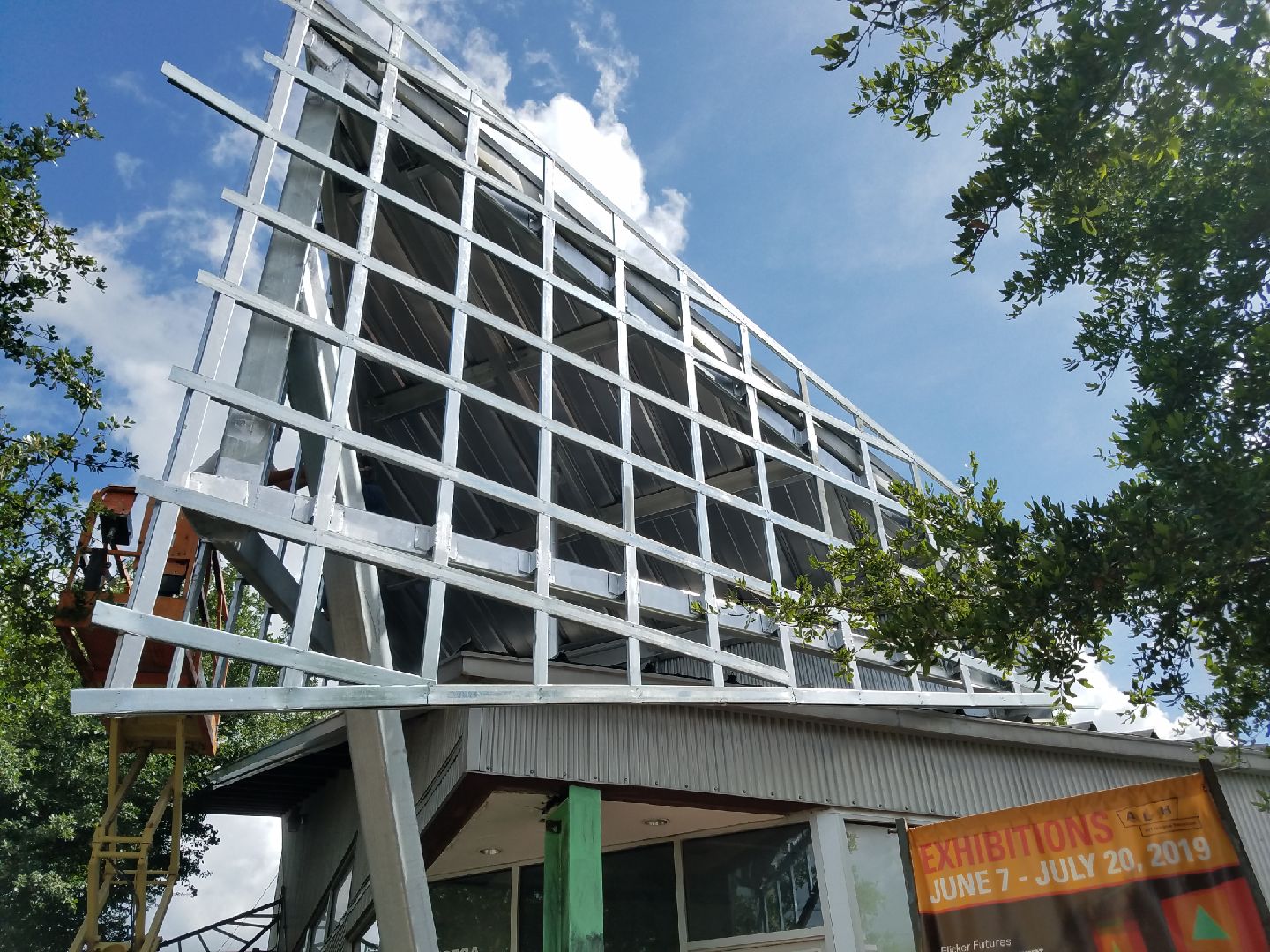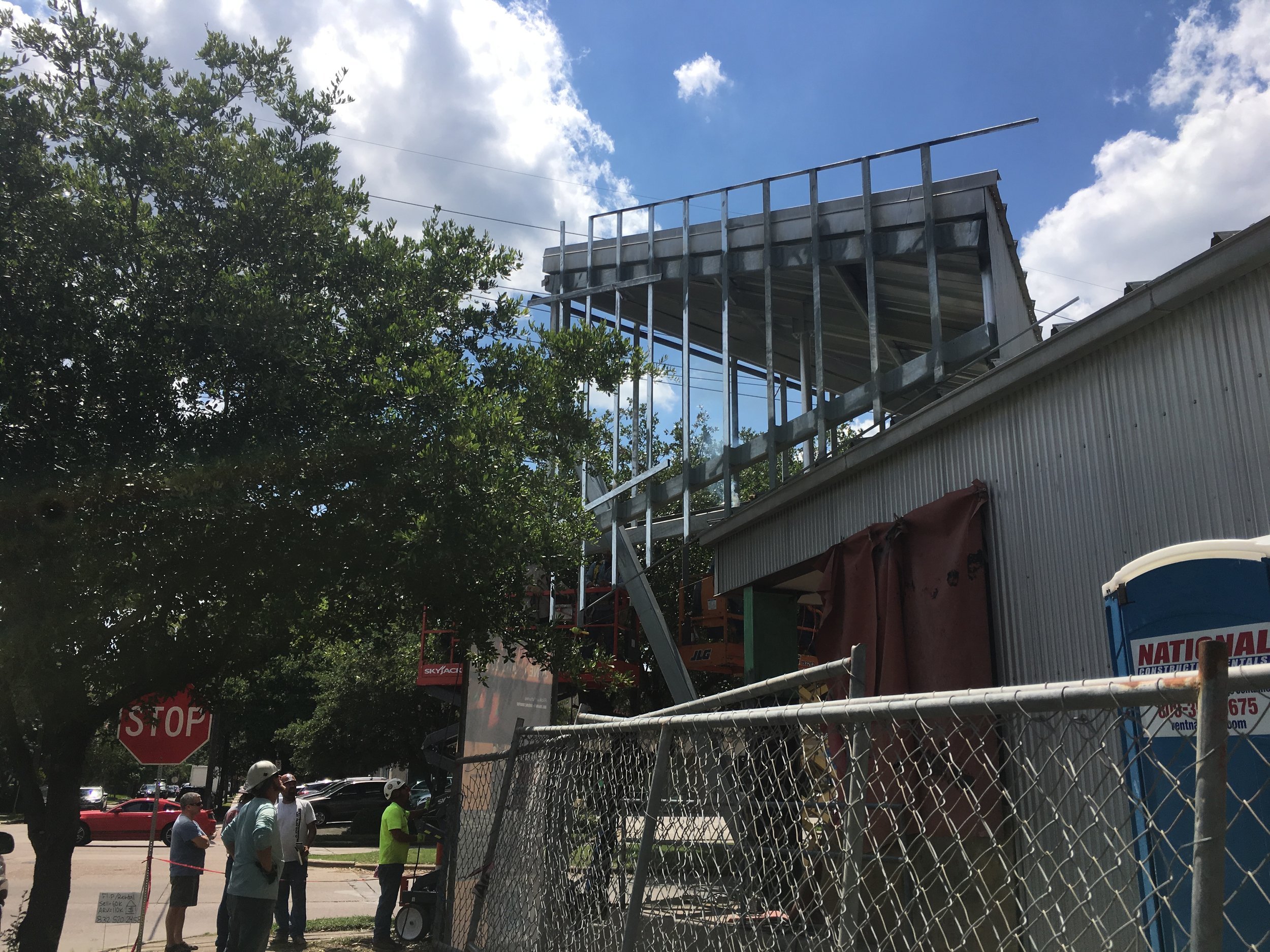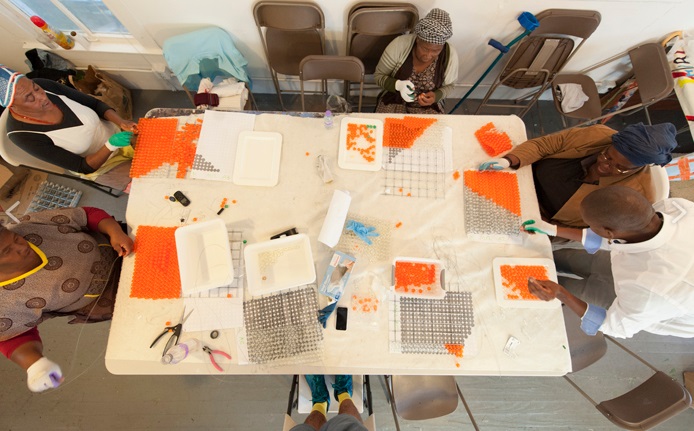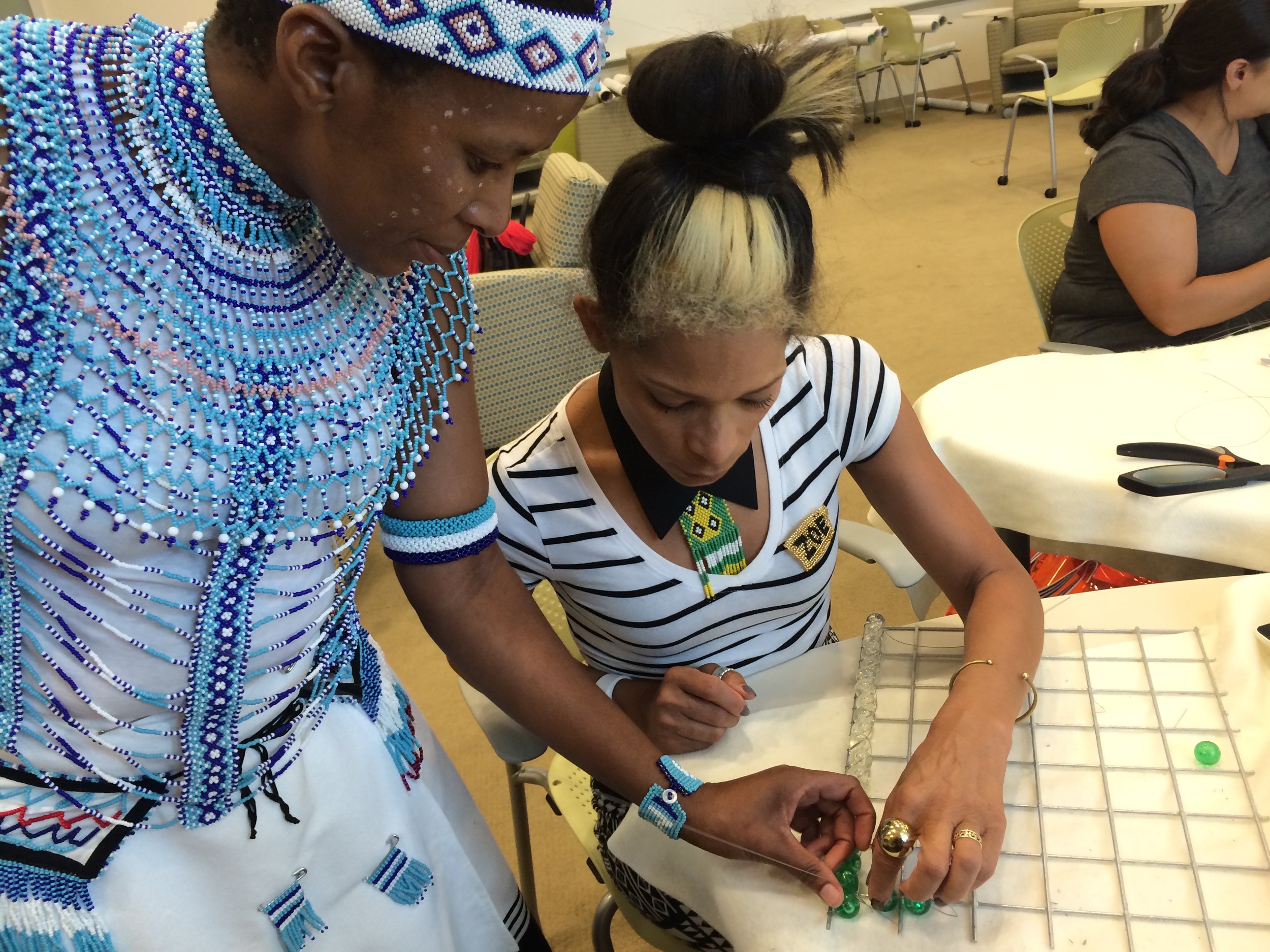 Significant support for this project has been provided by Art League Houston, Houston First Corporation, Houston Arts Alliance, The South African Eastern Cape Government, EC Provincial Arts & Cultural Council, Bulelwa Bam, Morgan Family Foundation, Texas Commission on the Arts, Houston Endowment, CARDNO, Poppi Georges Massey, Scott Sparvero, Louisa Stude Sarofim, Michael Peranteau, Rania & Jamal Daniel, Catherine D. Anspon, OKRA Charity Bar, Sara Paschall Dodd, Anita & Gerald Smith, Krista & Michael Dumas, Susan & Sanford Criner, Laura & John Calaway, Caroline Huber, Robert & Michelle Raney, Eileen Lawal, Jim Peterson, John & Stephanie Smither Visionary Fund, David Robinson, Minnette B. Boesel, Sallie Alcorn, Stephen Costello, Ashley Langley, Jereann Chaney, Phillis Jarmon, Rice University, Texas Southern University, Project Row Houses, Texas Gallery, Kerry Inman, Christina McWhorter, Barbara Davis, Ed Wilson, Leslie Holland, Jason & Arvia Few, Bryan Scrivner, Jeff Jennings, Zulu Creative, Jennifer Dolman, Amy Blakemore, Clint Willour, Caroline Graham, Lester & Dr. Penelope Marks, Silver Street Studios, MakerSpace Houston, Lane & Bob Schultz, The Beadery Rhode Island, Dean Ruck, SB Thomas Construction/Flex Erect, Soft Flex Sonoma California, Lisa Augustniak, Cameron Armstrong Architects, CE Shepherd Steel, Houston Public Library, Houston Public Media, Whole Foods, HEB, Phoenicia Foods Downtown, Canopy Restaurant, Aladdin Restaurant, Bar Boheme, Copy Dot Com, among others.
Art League Houston and the artist would like to specifically thank Robert Pruitt, David Wayne McGee, Rachel Hecker, Trenton Doyle Hancock, Tierney Malone, Michael Ray Charles, Otabenga Jones & Associates, Paul Fleming, Seth Alverson, The Art Guys, Patrick Turk, Patrick Renner, Dan Havel, Teresa Southwell, Sharon Engelstein, Quentin Pace, Hayley McSwain, Christine Jelson West and Desrye Morgan