George Smith: 1970 - 2016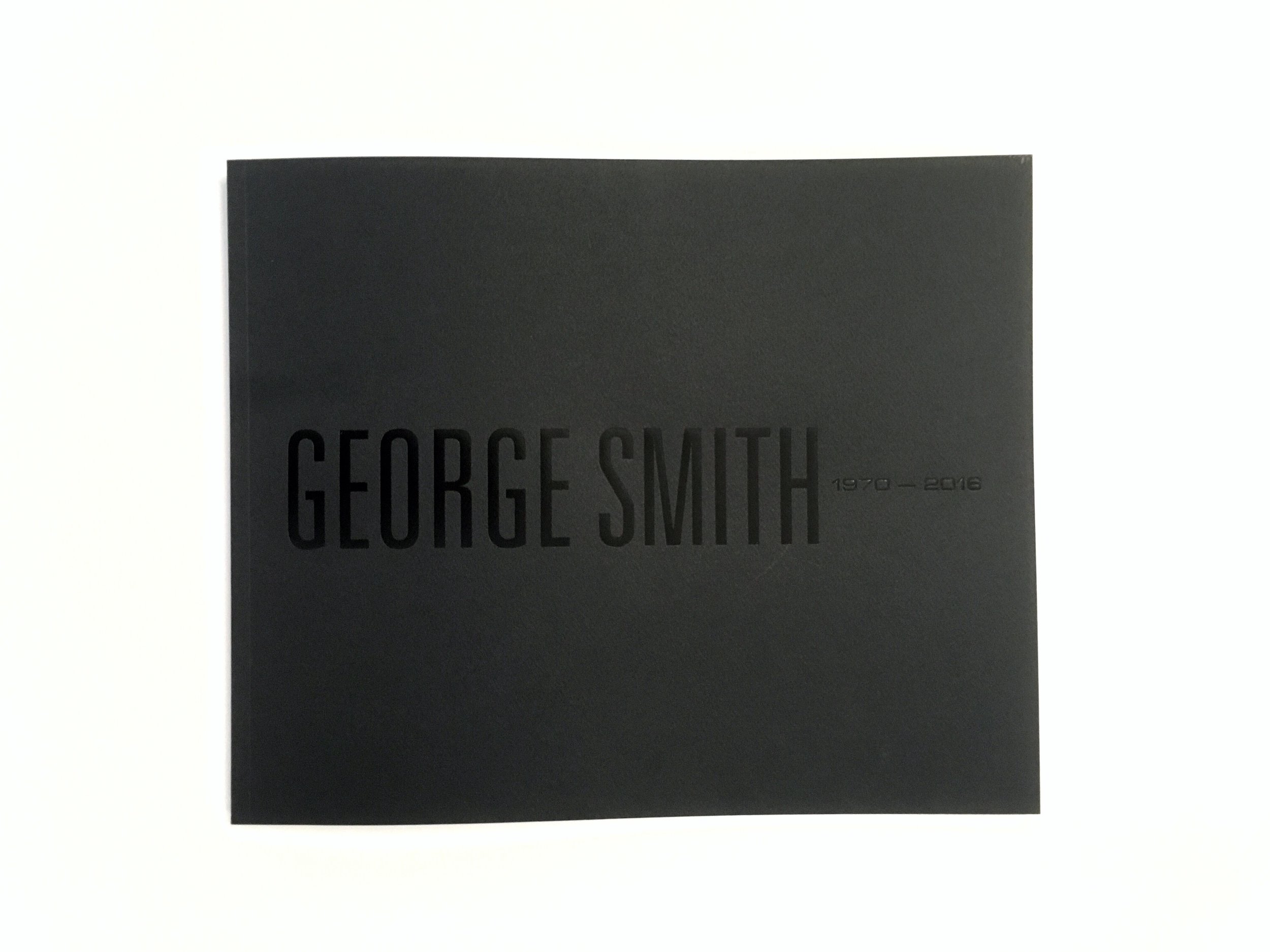 George Smith: 1970 - 2016
George Smith is a significant American contemporary artist who lives and works in Houston. He is known for his steel sculpture and oil on paper works which reference the Dogon aesthetic and the expressive power of African geometry. For the past forty years, he has created works in metal, steel and paper that evoke a powerful and spiritual quality, grounded in the very essence of the material itself. Smith's use of steel references the Buffalo Steel Industry, where his father worked in a local mill. The personal significance of this material combined with the primordial qualities of steel and fire, produce a lingering source of strength and endurance in the work that not only speaks to the contemporary experience but also acknowledges a symbolic vocabulary of the past. On one level, Smith's work reflects the artists' intellectual and aesthetic orientation, as well as experience with steel construction. On another level, it communicates his spiritual ambition.
Formally, Smith's work has an opaque aspect to it created through the process of using an oil bar with a blowtorch to build up layers of material, giving his work a sense of fullness. His scrubbed surface textures imbue a tactile touch of energy in the static yet moving qualities in his work, implying an excitement about the actual process that is unmistakable. This is true of his drawings as well. He again pushes the surface of the tempered paper. The rubbing and scrubbing techniques appear to raise the surface in undulating ways. The tactile surface reveals a forceful entanglement with the medium. His attempts to regulate the seemingly appositional effects of wax against paper go unresolved. Yet the tension that is set up by this confrontation is what's important. (James Pappas, 2001)
Smith's interest in Abstract Expressionism began in high school when he was on a class trip to the Albright-Knox Gallery. There he discovered the bravado abstract painting of Franz Kline. Kline's paintings were informal, intuitive, emotional, and expressed high energy and decisive movement. Additionally, he was introduced to Ad Reinhardt's signature black paintings, which featured shades of muted black squares containing barely discernible cruciform shapes in order to challenge the limits of visibility. These same qualities are evident in the gritty blackness of the surfaces and in the vector-like movement and ambitious scale of Smiths work. After attending the San Francisco Art Institute, he went on to graduate school at Hunter College in New York City. There he first became a student and later the assistant of sculptor Tony Smith, a progenitor of Minimal Art who created steel sculptures that bore a direct connection to Alexander Graham Bell's tetrahedron kites and space frames. From this teacher and mentor, Smith learned the techniques of building monumental sculpture even as he looked elsewhere to find his own style. Having experienced both the West and East Coast art worlds, he became fully cognizant of the various directions that contemporary art was taking during the tumultuous late 1960's and 1970's. At that time, Minimal Art was the major contemporary influence on sculpture, and while he took it into account, Smith did not see it as an end in itself.
However, it was to African art and architecture that Smith turned to find a geometry and spirituality which, unlike most contemporary American art, was not based on materialism. African American artists, such as Charles White and Jacob Lawrence, expressed their unique cultural experience from a Social Realist perspective. John Biggers and Loïs Mailou Jones went on to investigate their African roots from a similar perspective. This genre, Social Realism, was considered a minor movement by the art establishment. During that time, artists like Smith and James Little who were well educated and had experienced the Civil Rights movement, now felt that they had earned the right to define themselves and their art through a mainstream international approach to form and content. Smith, in particular, enriched his sources and his previous approaches through his focus on Dogon sculpture and architecture.
In 1979 and 1991, Smith traveled to West Africa to study the Dogon culture, which marked a cultural reawakening for the artist. Like other artists working in such themes in the African genre, looking back to the past was inspirational for the artist. There Smith studied the Dogon first hand and over the following years, he integrated their geometry and cosmology into his sculpture. The Dogon, who hail from Mali in West Africa, have for over centuries developed a geometric aesthetic and knowledge of astronomy that, along with their myths, are the unifying elements of their social and spiritual life. This caused Smith's work to undergo a major change. His sculpture now communicated a profound sense of spirituality whose essence evoke the unity of the tribe and, by extension, the unity of all things. Furthermore, his work is inspired by "Sankofa" a West African word meaning to return to the past and to move forward to the future. His titles, "Nommo," "Kindred Spirits," "Dissent from the Spirit," are centrifugal illusions born out of a yearning for an understanding of the past. When talking about his work, the artist notes:
"For more than 10 years, I have been producing sculptures inspired by The Dogon," said Smith. "This fascinating African society resides in a spectacular rocky region of the Republic of Mali called the Bandiagara Escarpment. On the face of the cliffs, The Dogon create their art and architecture, which consists of carvings and drawings representing mythical ancestors that are part of their elaborate cosmology, including the mythical star, Sirius."
Born in Buffalo, NY, Smith received a B.F.A. in Sculpture from the San Francisco Art Institute in 1969. In 1972, he received an M.A. in Sculpture from Hunter College, New York where the artist worked with sculptor Tony Smith. Additionally, Smith met and studied under curator and arts advocate James Harithas, who at that time was a Professor of Art History. Since then, Harithas has become one of Smith's most significant supporters. Returning to Buffalo after college, Smith accepted an appointment in the Art Department at the University of Buffalo where he taught sculpture for 9 years. In 1981, Smith moved to Houston and was appointed Professor of Sculpture at Rice University, retiring in 2010. He has been awarded numerous fellowships and grants including a National Endowment Planning Grant (1980); National Endowment Individual Grant (1977); two New York State Council on the Arts Grants (1976, 1973); two Cultural Arts Council of Houston Grants (1975), and a Guggenheim Fellowship (1971).
Smith has been featured in solo exhibitions in galleries and museums throughout the United States including Nicole Longnecker Gallery, Houston, TX (2018); O'Kane Gallery, University of Houston/Downtown, TX (2016); Project Row Houses, Houston, TX (2014); G Gallery, Houston, TX (2009); The Station Museum of Contemporary Art, Houston, TX (2007, 2005); Wilmer Jennings Gallery, New York, NY (2006, 1999); Burchfield-Penny Art Center, the Museum of Western New York Arts, Buffalo, NY (2001); Joan Wich & Co. Gallery, Houston, TX (2000); Fleming Museum of Art, Burlington, VT (1999); Graham Gallery, Houston, TX (1987); Sewell Art Gallery, Houston (1983); Rice University, Houston, TX (1983): Studio Museum in Harlem, New York, NY (1980): Herbert F. Johnson Museum of Art, Ithaca, NY (1979): Everson Museum of Art, Syracuse, NY (1972) and Reese Palley Gallery, New York, NY (1970).
Furthermore, Smith has been included in several important national and international group exhibitions at venues including at venues including MoMA PS1, New York, NY (2008-09); Contemporary Arts Museum, Houston, TX (2007, 1995); Camp Marfa, Marfa, TX (2007); Casa de Carton, Ingalls & Associates, Miami, FL (2007); Menil Collection Museum, Houston, TX (2006); African American Museum, Dallas, Texas (2015, 2006); Blue Star Contemporary Art Center, San Antonio, TX (2006); Rockland County Center for the Arts, West Nyack, NY (2000); Art Car Museum, Houston, TX (1999); Galveston Art Center, Galveston, TX (1999); Museum of Fine Arts, Houston, TX (1996); Studio Museum in Harlem, Sculpture Garden, New York, NY (1995); Project Row Houses, Houston, TX (1995); Kenkeleba Gallery, New York, NY (1992); Dallas Museum of Art, Dallas, TX (1992); High Museum, Atlanta (1992); Milwaukee Art Museum, Milwaukee, WI (1992); Blaffer Gallery, University of Houston, TX (1992); Deanza College, Euphrat Gallery, Cupertino, CA (1992); United States Information Agency, Washington, DC (1989); Huntington Art Gallery, University of Texas, Austin, TX (1989); Longview Museum of Art, Longview, TX (1989); Bronx Museum, NY (1989); Dallas Museum of Art, Dallas, TX (1989); The Museum of African American Art, Los Angeles, CA (1988); Studio Museum in Harlem, New York, NY (1988); Arnot Museum of Art, Elmira, NY (1973); New York Cultural Center, New York, NY (1973); Newark Museum, Newark, NJ (1973); Rutgers University, NJ (1971); Hudson River Museum, Yonkers, NY (1970) and the Whitney Museum of American Art, New York, NY (1970).
His large-scale public commissions can be seen at venues including the African American Museum of Art Dallas, TX (1997); University of Vermont Burlington (1992); Lubben Plaza commissioned by A.H. Belo Corporation, Dallas, TX (1991); University of Houston, Downtown Campus (1989); Niagara Frontier Transit Authority (NFTA) Utica Station, Buffalo, NY (1981), and the Metropolitan Atlanta Rapid Transit Authority (MARTA) Lindbergh Center Station, Atlanta, GA (1981).
Smith's work is represented in the permanent collections at the Museum of Fine Arts, Houston, TX; Menil Collection, Houston, TX; Studio Museum in Harlem, NY; Cooper Cameron Corporation, Houston, TX; Burchfield-Penny Museum, Buffalo, NY and Adam Clayton Powell State Building, NY. Furthermore, his work is featured in numerous private collections locally, nationally, and internationally.
Smith has collaborated with artists Rick Lowe, Danny Samuels, Nonya Grenader, Bert Long, Jesse Lott, Bert Samples, James Bettison and Floyd Newsum, as well as students from the School of Architecture at Rice University. Smith lives in Houston with his wife Thelma Smith. He is represented by Nicole Longnecker Gallery, Houston, TX.